Miraculous Thirst - how to get off in days of deprivation


Exhibition
2018

Galway Arts Centre Curated by Daniel Bermingham with Basic Space Two person exhibition with Eimear Walshe
Flags for queer cruising sites
Applique, velvet, upholstery fabric, satin, cotton, ribbon, woven ribbon, denim, dimensions variable, 2018
Clothes for queer cruisers
Appliqué on clothing, dimensions variable, 2018
Wall pasted images made in collaboration with
Line Skywalker Karlström
in a performative cruising action at the men's cruising area near the Teufelssee, Berlin, 2018.
B&W multiple A3 photocopies, wall pasted, dimensions variable. Installation documentation by Tom Flanagan
Exhibition documentation shows sculptures in brass and neon by Eimear Walshe. Textile works with wall pasted b&w photocopy photographs by Emma Haugh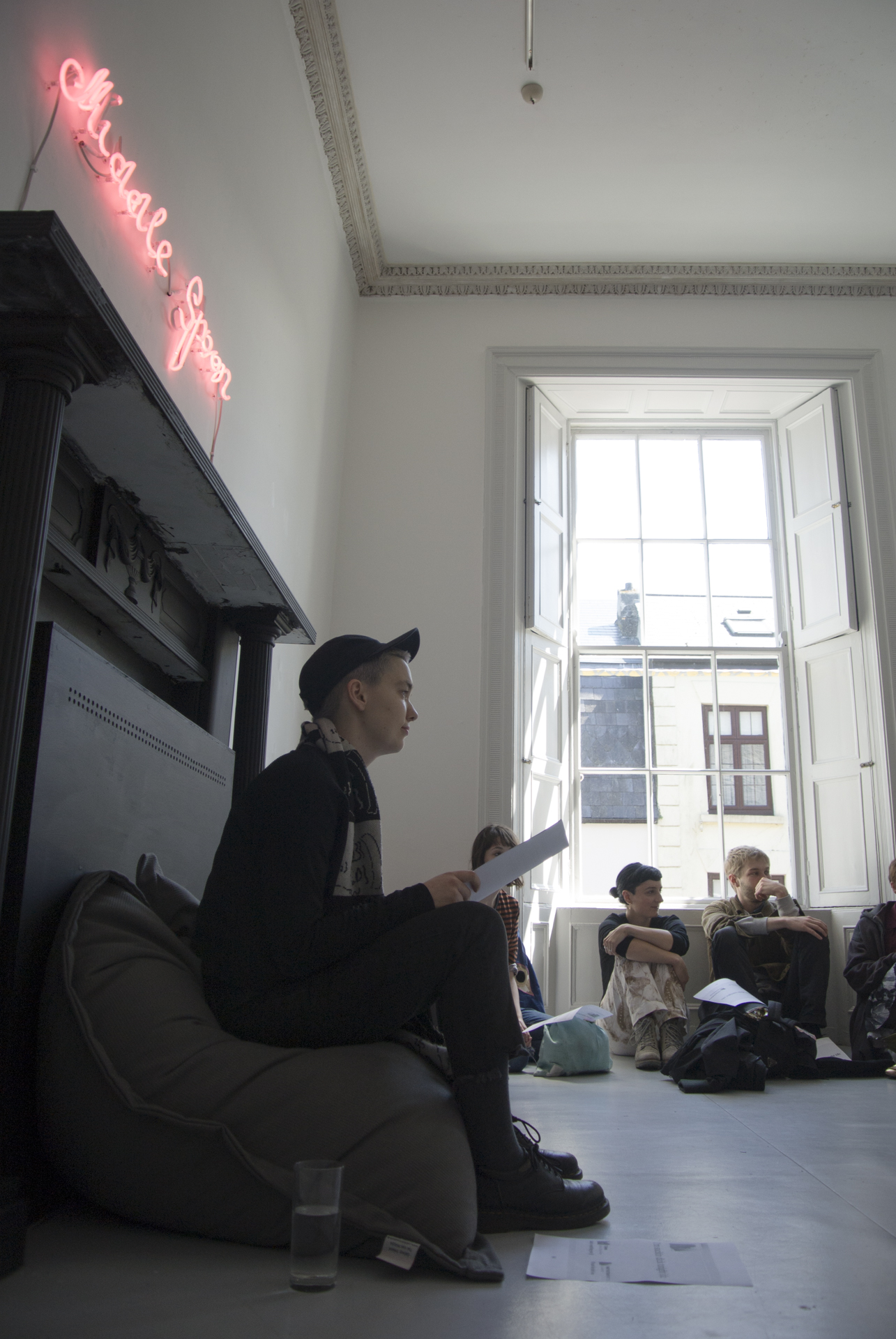 Reading by Eimear Walshe


Performance of Sex in Public
Miraculous Thirst
Miraculous Thirst, is a collaborative encounter between shared practices of queer world making, towards the blossoming of shameless queer desire (thirst). The works perform a repositioning of public space and the private sphere in relation to the non-reproductive pleasures of getting off.
Analogue sites of social sexual pleasure - public toilets/park bushes/nightclubs/bars - are becoming sanitised under the forces of rising rents and the intensification of human capital, transposed into a digital non-place, rubbing up against a reproductive, domestic present, what José Esteban Muñoz calls the "prison house… of the here and now." Where do we get off? Queer intimacy and desire are becoming regulated actions, their manifestations monitored in both private and public realms. Lives at the intersections of systems of oppression are threatened on the streets, by lovers, in the bedroom and in the bushes. How do we maintain spaces for shared sensual /sexual pleasure and care when personal safety is at risk?
Gloria Anzaldúa claimed herself to be the "Shadow Beast", a shape-shifting queer body slithering in the cruisy dark. Miraculous Thirst is a hissing ephemeral moment of queer abundance and potentiality, a horizon in the midst of deprivation, denial, trauma and violence. Through this generative exercise, Miraculous Thirst seeks to activate a colloquialism of queer reclamation, staking ownership to spaces and networks under queer economies of care.
how to get off in days of deprivation
is a query posed by Kathy Acker.
Press
︎VAI News Sheet, interview with Daniel Bermingham, Emma Haugh & Eimear Walshe, July, 2018 (IE)
︎Basic Space press release
PVA review of Miraculous Thirst by Fiona Gannon, upcoming