The Re-appropriation of Sensuality


Exhibition
2015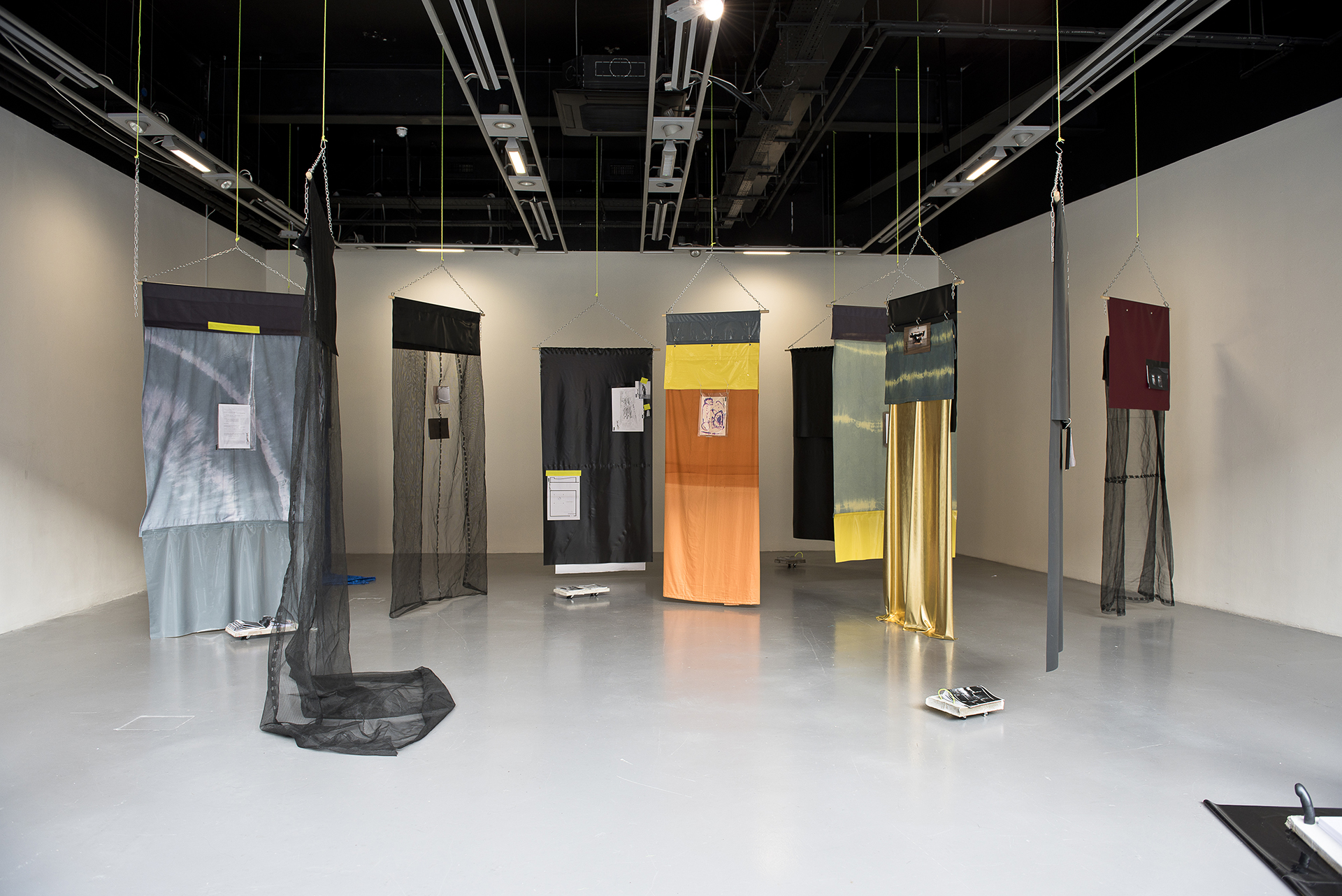 ︎
2015 National College of Art & Design
NCAD
Gallery Dublin Curated by
RGKSKSRG
Rachael Gilbourne & Kate Strain Hanging fabric panels, builders netting, pvc, tie dye cotton, faux leather, gold lame, chain, concrete, wheels, silicone rubber, dildo, archive materials (zines, posters, flyers, scripts, architectural drawings)
The Re-appropriation of Sensuality
is a long-term, collaborative project. The project seeks to re-formulate representations of desire and the politics of architecture, looking at the relationship between body knowledge, performance and the anatomy of space. Underpinning the work is the question: How do we imagine a space dedicated to the manifestation of queer female identified desire?
The Re-appropriation of Sensuality' is that rare thing: a successful exhibition that relies heavily on written texts. Wandering through Haugh's banners with their unsettling mix of attractive and repellent materials, the provocation to understand the systems that constrain us is both powerful and urgent.' Gemma Tipton, FRIEZE exhibition review (March issue #177)
Press
︎Frieze Magazine No.177, Gemma Tipton, 2016.
︎PVA Magazine, Fiona Gannon, 2016.
Totally Dublin, hardcopy only, Aidan Wall, 2015.
︎
Download exhibition guide
2017
Legitimate Rehearsals
D21 Kunstraum
Leipzig
Curated by Katharina Zimmerhackl & Lena Bruggenheim
Photo - Paula Gehrmann
2017
The Re-appropriation of Desire in Public
Archive Kabinet
Berlin. With Paper Visual Art
2015
This is Public & Sexy
St Andrews Community Centre / Common Ground / Studio 468 Dublin
Curated by
RGKSKSRG
Rachael Gilbourne & Kate Strain